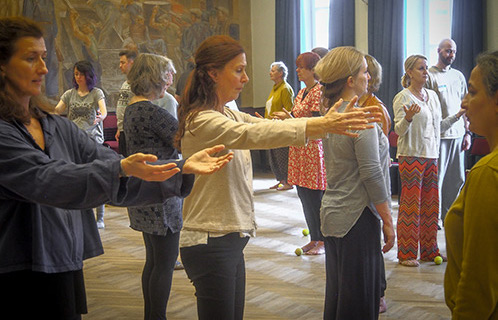 May 15 – 17, 2019
Open Workshop:
Exploring the Root of Developmental Trauma:
A Somatic Perspective
(Conducted in French and English)
with Ruella Frank
LOCATION
c.off (name of the place)
Körsbärsvägen 9,
114 23 Stockholm Sweden
TIMES
Wednesday – Friday, 9:30 am – 4:30 p.m.
*FEE
$575 (€492) (5019 SEK)*
For further information and to register email
[email protected]
About the workshop:
During this three day workshop, we will explore the roots of 'traumatic attaching' – a bi-directional approach – from its inception in the infant-caregiver dyad to its expression in the adult patient-therapist relationship.
Through mini-lectures, experiments, experiential demonstration and discussion, we will learn how to identify patterns of 'traumatic attaching' as they emerge within the unfolding therapy session and how to work through them. The aim of this workshop is to continue building an innovative somatic and developmental approach to Gestalt Therapy theory, while remaining faithful to the foundation principles.
---
The workshop is open to all.