Book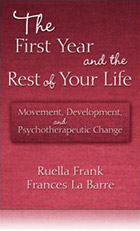 The First Year and the Rest of Your Life Movement, Development, and Psychotherapeutic Change
Ruella Frank and Frances La Barre
The movement repertoire that develops in the first year of life is a language in itself and conveys desires, intentions and emotions. This early life in motion serves as the roots of… read more
"I believe this to be the most fruitful use of infant research that I have ever seen, and am honored to help to introduce its verbal expression."
— Donna Orange, Ph.D., Supervising Analyst, Institute for the Psychoanalytic Study of Subjectivity, NYC, author of Thinking for Clinicians, co-author (with R. Stolorow) of Worlds Of Experience, co-author (with G. Atwood and R. Stolorow) of Working Intersubjectively
Click here to order The First Year and the Rest of Your Life
---
Book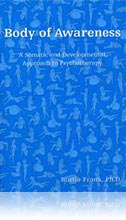 Body of Awareness:
A Somatic and Developmental Approach to Psychotherapy
A foundation text for understanding the relationship between early infant movement and adult psychotherapy. More…
"Dr. Frank, in this pathbreaking study, makes a compelling case for the critical role of 'body sense' in developing self awareness from the earliest days of infancy, and in maintaining a healthy mind-body equilibrium throughout life. She provides sensitive and exquisite case studies and shows a deep understanding of movement, development and therapeutic change. This book will find a wide and receptive audience."
— Esther Thelen, Ph.D., Professor, Department of Psychology, Indiana University;
Author of A Dynamic Systems Approach to Development
Click here to order Body of Awareness
---
Book Chapter
Ruella Frank
"Embodying Creativity, Developing Experience:
The Therapy Process and Its Developmental Foundation"
Published in:
Margherita Spagnuolo-Lobb,
Nancy Amendt-Lyon, (eds.)
Creative License: The Art of Gestalt Therapy.
Wien/New York.
Springer-Verlag, 2004
Order the book
Introduction
It is the intention of human organisms to seek relationship within their environment. Through this dynamic interaction, the organism changes and grows ". . . assimilating from the environment what it needs for its very growth" (PHG, 1951, p. viii). And how the organism incorporates what is vital to its developing is through the creativity of adjusting or the spontaneous interacting of one with another to create something different and new.
Any adjusting is creative insofar as it leads to integration: the unification of two unlike essences that are now made into a more inclusive whole. This is the experience of contacting; the quality of connecting with oneself and within the environment.
Request a copy of the complete chapter
(delivery by email, in pdf format)

---
Book Chapter
Ruella Frank
"Developmental Somatic Psychotherapy: Developmental Process Embodied Within The Clinical Moment"
Published in:

Totton, Nick, (ed.), (2005)
New Dimensions in Body Psychotherapy.

Open University Press/McGraw Hill Education
Order the book
Introduction
As one of the contributing authors to New Dimensions in Body Psychotherapy, I am pleased to be part of a project that brings together diverse and novel explorations within the field of psychotherapy. A pre-requisite for any work to be labeled a new dimension is that new parts have been integrated into what is already known in such a way as to create a different and unique whole.
This is certainly true of Developmental Somatic Psychotherapy. Inspired by the work of somatic/developmental practitioners and theorists, this new dimension is a relational and movement-oriented approach to psychotherapy within a Gestalt therapy framework. In pulling together these dynamic strands, a template for understanding and working with early psycho-physical blocks as they arise within the here-and-now of the adult therapy session has emerged.
Request copy of the complete chapter
(delivery by email, in pdf format)